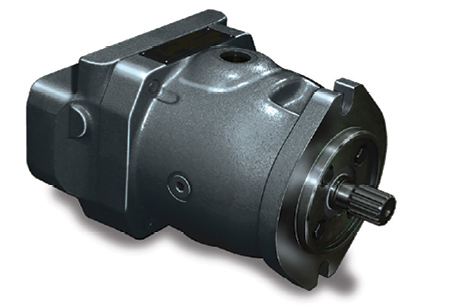 Hydraulic motors are used in any application requiring rotational force, also known as torque. A hydraulic motor converts hydrostatic energy into mechanical energy by pushing vanes, gears or pistons attached to a crankshaft. The power capacity of a hydraulic motor is dictated by its displacement, and the speed in which is rotates.
Hydraulic motors are used in industrial applications such as augers, conveyors, and mixers, as well as rolling mills, where their robust nature and resistance to heat make them a perfect solution. Hydraulic motors can be used in any application an electric motor can, but require no electricity, and can withstand more environmental extremes, such as submersion and extreme heat. Motors can be sized small enough for high-speed drills, or large enough for injection molding machines.
Hydraulic motors are especially well suited to mobile machinery, where they are the primary drive for most off-highway equipment. Hydrostatic drive systems act to transmit engine power to the drive wheels, with exceptional versatility and reliability. Hydraulic wheel motors are used on wheeled loaders, skid-steer loaders, articulating loaders and backhoe loaders, where the motor's quick and smooth reversibility make them perfect for the application.
Motors are also used in tracked vehicles, such as excavators of all sizes, bulldozers, and specialty machines, such as bridge-layers or drill rigs. The high power density of hydraulic motors allow them to achieve earth-moving torque in a relatively small package. Hydraulic motors can also be used in hybrid hydraulic vehicle drive systems, where the motor can also absorb energy from the drive wheels to pump fluid into an accumulator, which can subsequently send flow back to that motor for a burst of acceleration from low speed.